Post by Brian Wilson on Apr 5, 2007 19:40:11 GMT
INTERVIEW WITH SUE MALDEN - PART ONE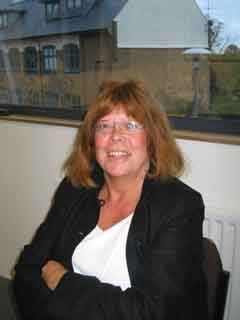 On March 19, 2007, Douglas Wulf chatted by phone with Sue Malden, the BBC's first archive selector and perhaps the single most important individual to whom Doctor Who fans can be grateful for the preservation of episodes from the early years of the programme. This is a transcript of their conversation.
DW: Sue, perhaps we can begin by having you tell us a little bit about how you got into working in archives.
SM: I first of all did a degree in economics at the London University. I did economics because I wanted to study history, but not just straight political history. I was more interested in social history and I did an economics degree combining social and economic history. Having finished that, I was wondering what to do with a career and thought about librarianship. So I worked in the library for a little while, and I then did a post-graduate diploma in information studies. One of the areas I was studying, in particular, was popular culture / popular literature. Finishing that course, I then had to look around for a job and was very lucky to get a job working in the BBC library. I saw that the curating and caring of television programmes was a kind of extension of my interest in popular culture and I could apply my librarianship skills in organising knowledge and information and trying to make it available. So that's a kind of post-event rationalisation. I'm not saying that that's what I set out to do, but that's how it happened.
DW: What is so terribly important about what you have done as an archivist is that you're not just preserving television, you're preserving cultural heritage.
SM: Exactly, yes. I mean, at least certainly the stuff I studied at college was kind of street literature, early newspapers and chap books, and things like that, Television is the equivalent of that in the 21st century. I had always taken the view that television very much reflected the society we live in, how society behaves, and its values, and so on, and also reflected what we had of knowledge, information, and entertainment.
DW: Yes. You can see the clothes people wore, the cars people drove, but also their social values. Everything about the culture really is encapsulated in television.
SM: Yes, exactly. What they thought was important, how they expressed their feelings, and so on.
DW: Well, you've had quite an illustrious career as an archivist, and I was recently sent a photo of you and noticed you were sitting there next to Kofi Anan.
SM: Oh that's right! Yes.
DW: I was curious to hear about that event. You did notice he was sitting there, I assume. (laughs)
SM: Oh, yes. (laughs) Well, that's a fantastic project I'm involved in. Basically, I had been invited to speak at the World Summit on the Information Society, the second summit being held in Tunis in December, 2005. This was a huge international event. And as part of it, the World Electronic Media Forum, organised some seminars on various issues. One of them was archives and media archiving and I chaired a panel of expert international speakers from various archives throughout the world.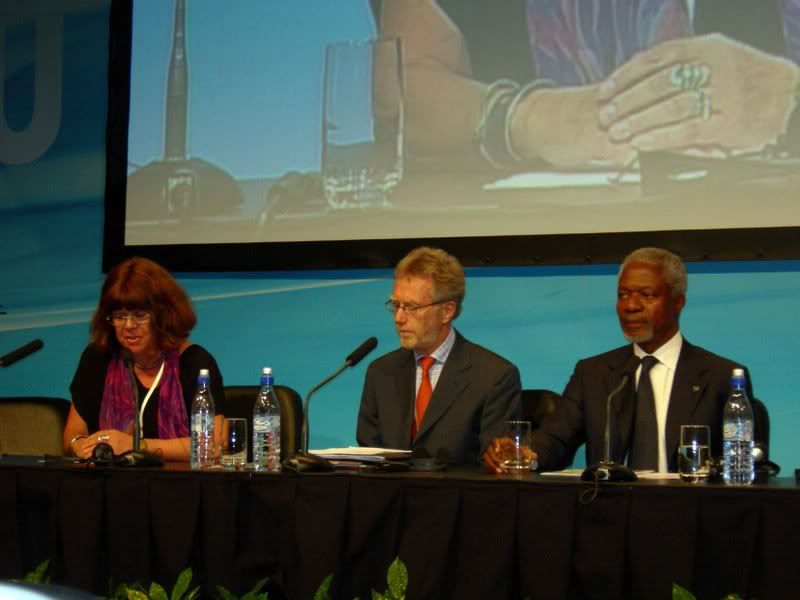 DW: Well, archiving is certainly changing with new digitisation of archives and new media.
SM: Yes, and some of our speakers were looking at that, and that's all very well as the technology moves forward and offers solutions to archiving, but how is that going to be achieved? And what is the fallout? Can everybody achieve it? So, the seminar very much looked at the issues and the problems that are threatening archives. We came to conclusions during the session, as did four or five other presenters. And we then presented the findings of each of our sessions to Kofi Anan, the General Secretary of the UN. Our group recommended that the UN should support the setting up of an ad-hoc group of key bodies in media archiving to assess what the problems were to endangered archives and to make recommendations as to how they could be supported, say, how we could find funding for them, and how we could offer professional information and training, and so on. So, I now work for that group (Chaired by Emmanuel Hoog of INA, France) which very much supported by FIAT (International Federation of television Archives)
DW: Well, it's wonderful that you are reaching the top levels of worldwide diplomacy to get things done about endangered archives.
SM: Yes, that was very much our aim and also you probably know I work for FIAT, and following our conference in Paris in 2004, we had what we called the 'Call for Paris' which was an international call to get as many names as possible to support and highlight the problems and issues for audio-visual archives. This piece of work kind of predated the UN initiatives, and that work was presented to the UN in our conference in New York in 2005.
DW: Let me say that some of the fruits of your labour were recently shown on BBC4. Just last night The Web of Fear: Episode One was rebroadcast (Note: On March 18, 2007).
SM: Oh! Excellent!
DW: What are your memories of finding that episode in a batch of prints returned from Hong Kong? Or perhaps of finding the pilot episode of Doctor Who?
SM: Well, the pilot was always in the BBC archives, well, as long as I knew. When I became the first archive selector for the BBC, what was important for me to do was to raise the issues about archiving among the broadcasting community, particularly the BBC, making managers and producers aware of its importance and having a policy for deciding how and what should be kept, and effectively carrying that out. So, I spent a lot of time working on refining the policies which had been drafted as part of the work in support of BBC archiving. Then, I spent a lot of time planning, advising, and working on the process of putting things into place, and so on. So, when I finished doing all that, I kind of looked around me, and thought, "Well, what am I going to do next?" And I thought it would be useful to take one well-known, seminal television series and analyse just what had happened to it, how often had it been broadcast, when was it broadcast, how many programmes had there been in the series, and how many of them survived in the archives. And those that didn't, was it possible to find out why they didn't? And then, if necessary, find out where they could be recovered. And I happened to choose Doctor Who…
DW: Oh, what a nice selection!
SM: ...which was amazing really. To me, Doctor Who was one of those key significant series which was a milestone in television history. Everybody knew about it. It had touched so many people's lives, and it had gone on over several different generations as well. So, I set about finding out how many Doctor Who's were in the archives and how many had been transmitted in the first place, and then I saw I had got quite a lot that were missing. So, it seemed a good idea to actually try and find out if there was any way of finding out why they were missing, what had happened to them, and then what could be done to recover them. For me, it was very interesting to learn much more about the issue of rights, particularly rights of the talent, such as represented by Equity and the Musicians Union. I found out then that the BBC only had negotiated certain rights which for example would be for one transmission and one repeat, and after that, they couldn't show it again. So, there was considered very little reason to keep it.
DW: Television was treated as ephemeral, as dictated by those rights.
SM: Yes, very much so. And, in fact, if you think about the history of television, coming from live theatre and many of the people working in television came from that background, and certainly in the early days of television, so much of it was live, that the whole notion of recording it was not necessarily a kind of common thought then.
DW: It was a broadcast play.
SM: Yes, it was a means of producing something and transmitting it to a much bigger audience, rather than just in one theatre or music hall, and that was the main objective, not necessarily to record it and keep it. In the same way, somebody working in a theatrical production, they don't record every performance they do every night and keep it. And so, that seems very strange now, now that we have all the technology for recording, selling programmes, repeating them, and reusing them, and so on. But I felt, if you take yourself back to how people thought at the time one can understand how things happened.
DW: The psychology was very much different.
SM: Yes, and it very much helps in part to explain why there were gaps in archive holdings. Also, many programmes, particularly Doctor Who, were studio based. There may have been some location, but by and large, they were based in the studio and would have been recorded on videotape. Back in the 60s, videotape was much more expensive then, and very bulky, and it could be reused. So many broadcasters had a process in place for reusing the videotape once they had used up their rights to transmission. So, looking at Doctor Who, I learned a lot about that, about what had gone on in the past. It was still very frustrating, but at least one could understand why and what the explanation was. So, I spent quite a lot of time lecturing, talking, and explaining the situation, and you find it's the same pattern with broadcasters all over the world.
DW: Yes, it has happened that way. Doctor Who was very lucky that it had some healthy foreign sales, where the 16mm film recordings were made.
SM: Exactly, yes.
DW: And a few of those still pop up from time to time. We had a couple of them reappear in the last few years. An episode of The Crusade was returned in 1999…
SM: That's right. The Lion.
DW: …and an episode of Daleks' Masterplan in 2004. Are you surprised when you hear about the return of those episodes so recently? Or does it not surprise you?
SM: Well, it is strange. I mean, to come back to the original question. Once I then got my list of episodes and the ones that were missing, I thought, "Well, how on earth can you replace them?" That's when I found out about how much had been sold by the BBC in the very early days. Although the programmes were made on videotape, the BBC sold them on film recordings and that immediately gives the programme a much better chance of surviving, because you can't reuse film. So, although programmes were sold for a limited period of time, and the purchasers or licensee had to agree to return them or destroy them, in many cases, it was probably too much trouble or cost to bother returning them. And then they didn't bother to destroy them. And they couldn't be reused like videotape. So that's how film recordings of Doctor Who were still around with broadcasters who had licensed programmes from the BBC.
DW: I see.
SM: And that's how I found the episode of The Web of Fear. When I found out that the BBC had been selling them, I made contact with people in Enterprises, which was the commercial arm of the BBC then, and found out that they were getting quite a lot of programmes returned. So, I then asked them if I could go through all their returns before they destroyed them. That's when and how we found lots of Doctor Who in the early stages. I worked very closely with a guy called Ian Levine. I set up a process whereby anytime anything came back for destruction at BBC Enterprises and at Worldwide, they let me know, and I could go through them and check anything that was there. Not just Doctor Who, but all sorts of programmes. We certainly got a lot of Doctor Who that way. So, the next step then was to think how much was lurking around and just being retained by the original broadcasters, but they're not bothering to return them. So again, we found programmes in this way all over the place. So given that history, on the one hand, you're inclined to think, well, we've exhausted everything. On the other hand, I'm not totally surprised that we're still finding things years and years later, and I always live in hope that we might find something else.
DW: Well, referring to those film recordings, Ian Levine speaks in The Missing Years documentary about that, as do you.
SM: Yes.
DW: And he describes how on a fateful day in 1978, he found all positive and negative prints of the episodes of The Daleks bound up with tape and ready to be junked. However, in 2004, Francis Watson, a former BBC employee, returned a print of Day of Armageddon, which is Episode 2 of The Daleks' Masterplan. He also returned a print of an episode of the original The Daleks: Episode 5, titled The Expedition, that already existed in the archives, since, as I mentioned, that episode avoided destruction in 1978. It was expensive to make film recordings in those days, so any guess as to why this extra copy of this episode might have existed? Could it have been a viewing print? Could other additional prints of this sort exist? If so, why?
SM: Well, I think what would have happened is this. Obviously, BBC Enterprises, who were doing the sales, would have struck the negative from the videotape. Unfortunately, for all the reasons we have talked about, some of the videotape would then have got wiped. Enterprises would have kept the master negative, and, from that, made as many prints as they needed. It's quite likely that they would have sent one set of prints, for example, to New Zealand, another set to Canada, and another to Australia. So, they probably struck many prints from that one negative and distributed them off to their customers, and the ones that Ian and I found in Enterprises were a set that had come back, well, I can't remember where from, but the complete seven had come back from another country for destruction, in that sense. Enterprises were going to destroy the negatives, because they had finished selling the programme, thought there was no more value in the negatives, and had assumed that the master was still in the BBC archives. So this kind of "spare print" that Francis Watson found could have been one from a batch supplied to another broadcaster.
DW: Oh, I see, another returned print.
SM: Yes. Why only one survived, who knows? But then, you find that many of the broadcasters, once their rights to use the material had run out, as I said before, they would either send them back to the BBC, or they would destroy it, or they couldn't be bothered to do anything with it locally. Now, if they destroyed it, they probably just chucked it out into skips as rubbish and all sorts of stuff could be found in the skips. Sometimes when people do that, in theory, they're always supposed to let the film spool off out of the can, so that it couldn't be taken by anybody else and reused, as a way of protecting the rights. But maybe people got a bit lazy, if they were dumping a load of films, and forgot to take one or two out of the cans. It could be how odd ones survived.
DW: Of course, foreign television archives have been contacted frequently about the missing episodes. However, as we mentioned, Francis Watson, who was a former BBC employee, also had a missing episode and a redundant copy of an existing episode. Do you think that it might be possible to contact former BBC employees and more or less delicately ask them if they might have any souvenirs of their employment with the BBC in the way of old film recordings?
SM: Well, for ages, we did think it was difficult. We were kind of cautious about how we progressed with that, because, technically, anybody who had this property shouldn't have had it. So we thought people would be very reluctant to come forward. Also, they might jeopardise their position. So, for a long time, we just informally put out the word that we were always looking for material and would welcome anything back. And then, not long before I left the BBC, we launched the "Treasure Hunt," where it was decided we could be upfront and say, yes, if we had the choice to turn the clock back, we would have had a quite different selection policy than had actually existed at the time, but we couldn't do that. Anyone who had managed to rescue something or come across it in a skip or find it in a car boot sale or whatever, we would always welcome getting that back into the BBC archives. And given that we were doing that, there would be no problems for any people surrendering stuff. There wouldn't be any great inquest into "How did you get hold of it?" and all that kind of thing, other than perhaps if it might have led to a cache of other programmes. A certain amount of stuff came back. As you probably know, 2 episodes of Dad's Army, was one of the programmes that was one of the more significant ones that came back. And since then the BBC archive, has always had an open door to anyone who has found anything or is wondering whether the BBC still had it by inquiring. And, of course, there are particular fans of Doctor Who still working at the BBC, like Steve Roberts, who are always open to getting the programmes back. Oh, and I should say, just recently, not that I know it's turned anything up, but the ITV company have celebrated their anniversary and launched "The Raiders of the Lost Archive" and that's a similar kind of appeal to find missing material. There is also a programme of events at the UK National Film Television archive called Missing Believed Wiped where someone called thingy Fiddy is always keeping his eyes and ears open for any television that might be missing.
DW: Well, it seems that it would be a wonderful strategy to continue to get the word out to former BBC employees and former employees of foreign broadcasting stations too, if at all possible, about the importance of returning these prints and also to reinforce the message that there is no legal action going to be taken against these people who return missing films. In your opinion, are there overseas archives that have been checked so completely that they can more or less be crossed off the list for potential sources of missing episodes of Doctor Who?
SM: No, I don't think you can ever say that really. I mean, certainly through my work with FIAT, or through the connections I have with FIAT, I have appealed directly to all our members to check in their stores if they have any Doctor Who. I did a presentation at the FIAT conference in London in 2001 on the "Treasure Hunt" and at the FIAT conference in Madrid last year, Steve Bryant from the B.F.I led a workshop talking about various different issues of how you can fill the missing gaps in your archive. One of which was giving examples showing that when broadcasters now are doing their preservation and restoration work, getting old tape recordings out, they are occasionally finding something in the store that perhaps should have been junked or wiped in the past but did in fact survive. And also, sometimes on the end of videotape recordings you might find a programme that was before or after the main program. So, some examples of that were given, and also Steve again made an appeal for a treasure hunt in different broadcasters' archives. So, we are always trying to raise the issue and keep people aware of it. There was no direct or immediate reaction or response to that.
DW: A related question: Very little has been said about missing Doctor Who episodes dubbed into Spanish and Arabic and sent to non-English-speaking countries. Off the top of your head, what do you think about the prospects that prints dubbed into Spanish or Arabic or perhaps other languages might still be in foreign archives?
SM: There might well be. And that is why every now and then whenever I am lecturing anywhere, for example, even when I was talking in Tunis, if there's an opportunity to get a word in about missing archives, Doctor Who is the one I always mention. It's good to have that as an example to encourage other archives. The BBC has a fantastic reputation for its archive, but nevertheless, in the past, it has lost programmes it would like to recover now, if only it could, and one is Doctor Who. So, I am always putting the word out and, in that sense, I kind of live in hope. You never know what might turn up. If I am ever doing an audit on an archive anywhere, I always ask if I can have a look at what they've got. I was in the Caribbean a little while ago with Barbados Broadcasting, the CBC, and checked out the old film recordings to see if they had got any Doctor Who there.
DW: It's wonderful that your still sorting through the prints in the archives and also that you think it is very important to raise public awareness and spread the word about this. With the issue of publicity, last year 'The Sun' ran a story: "Doctor Who fans go psychic in the search for missing episodes.' Do you think this was a potentially effective or potentially harmful piece of publicity?
SM: I don't know. I mean, I'm not that closely involved with the fans and so on, so I don't know how people reacted, but I can't see that any publicity on something like this is necessarily bad publicity.
DW: It's just good to get the word out.
SM: I think it's good to get the word out. You think, "Oh well, we've done it once, we don't need to do it again." But you forget that not everybody caught it the first time, and new generations of people come along and are interested in this sort of thing, so it's well worth repeating any publicity you can get every now and then. You never know what might happen.
(C) Lost Dr Who 2007